Add character to your kitchen or living space with a hand-selected piece of furniture or decor. We offer unique items that put a bit of "wow" factor into the home. From re-purposed items, that once had a different function to unusual finds that provide function as much as fashion to a room to custom designed pieces by Arthur Zobel, we assure quality and satisfaction.
Fly Wheel High Top Tables
Once fly wheels for a grist mill now tops for our adjustable hi-top tables. Perfect as a home bar table or small eat-in kitchen, these tables feature very sturdy legs, thick glass for durability and a locking nut to secure the top at just the right height.
We are taking orders for similiar size and shape fossil murals
Frozen in time 50 million years ago, these fish seemingly come to life in this 48' x 30" mural. Harvest from limestone mines in Utah, this piece was painstakingly sliced to reveal its hidden fish. Patiently cleaned and highlighted, the fossils have tremendous detail that tell a story of their underwater life.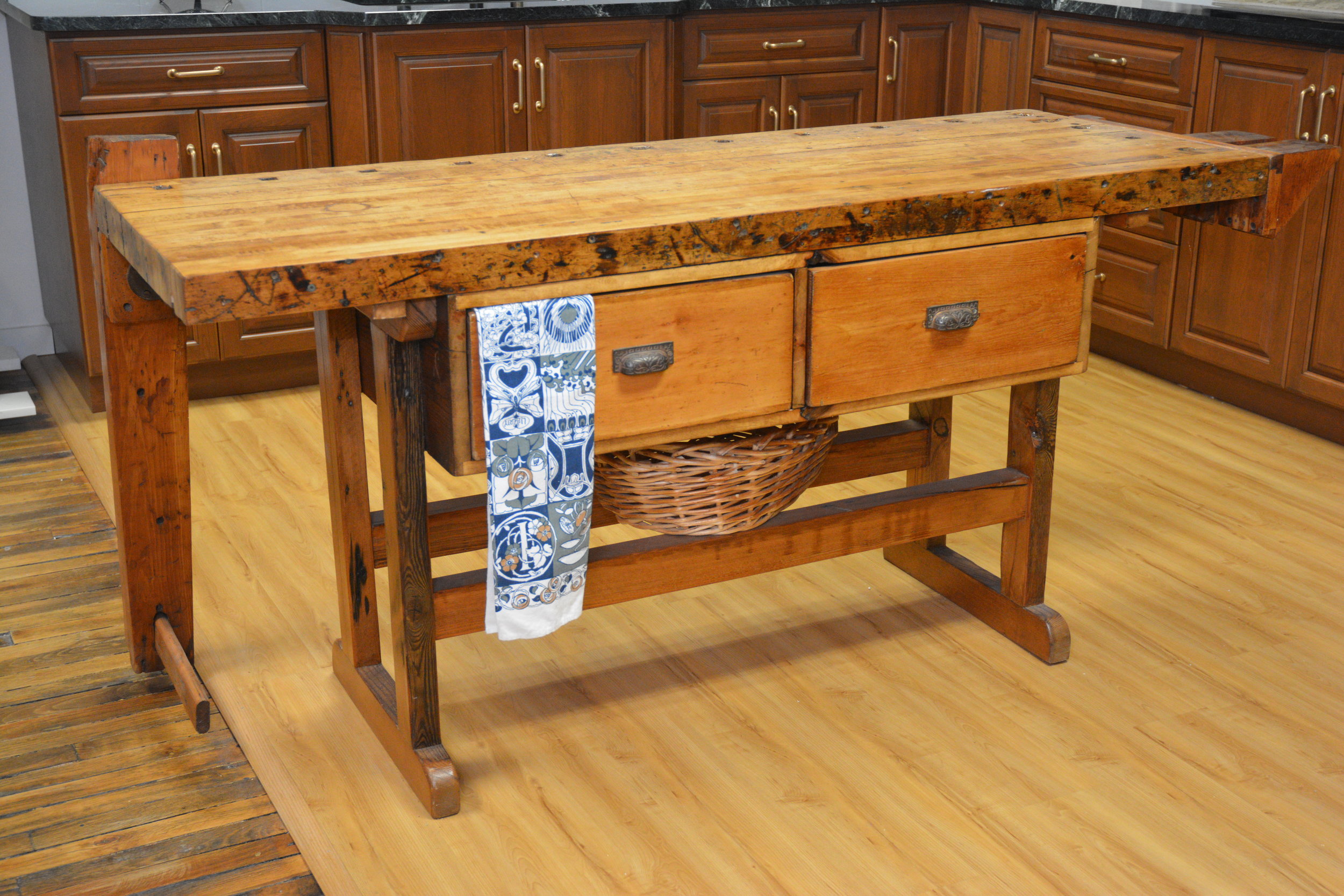 This former work bench is a statement-making addition to a kitchen. The bench is a perfect island height and features tool notches that are convenient for kitchen utensils as you're whipping up a favorite dish. The double-sided drawers offer plenty of storage, and the bottom rails create a handy shelf for baskets, platters and more.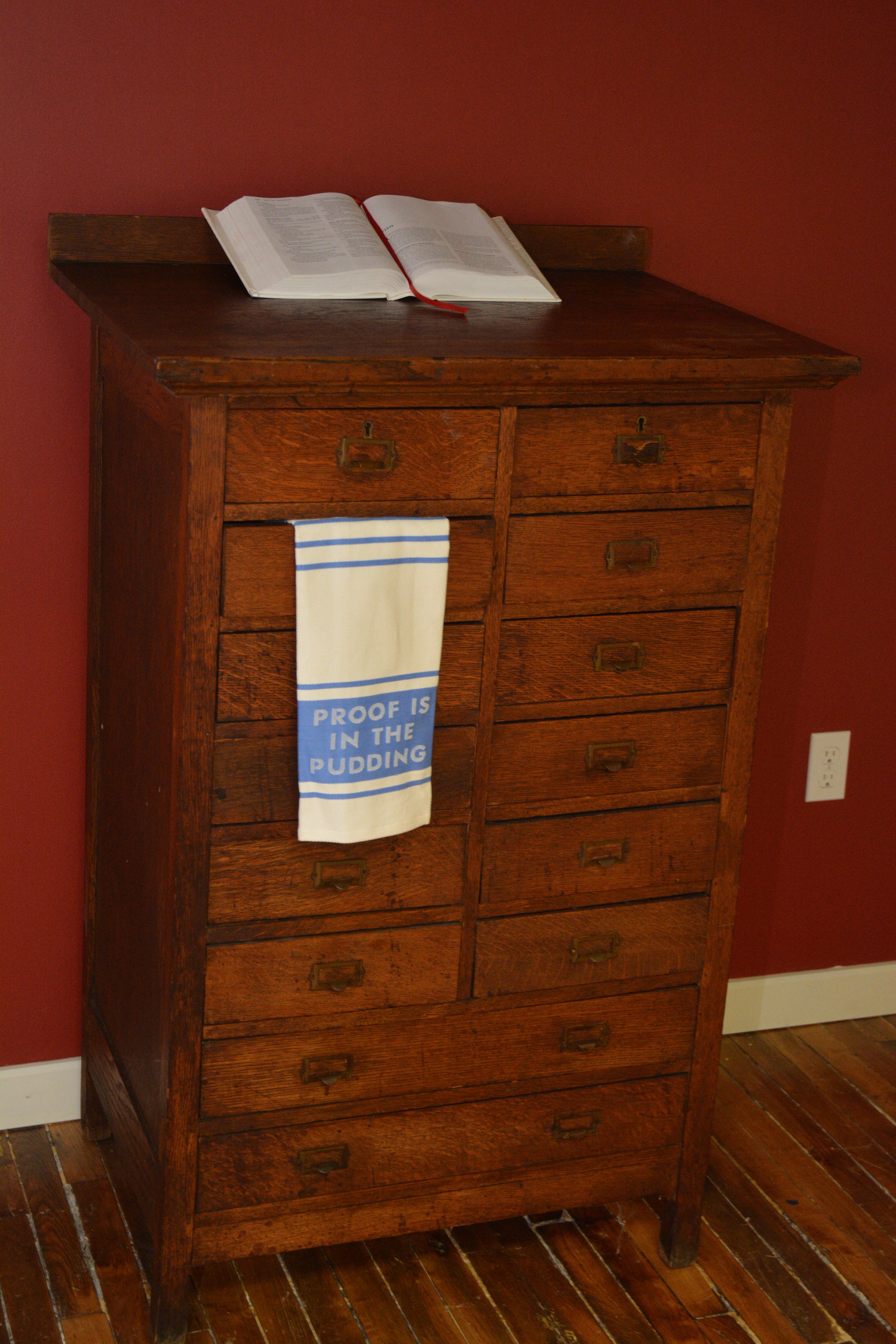 This card file is terrific for small kitchen or "that spot" in the kitchen that's too narrow for a table. Organize spices, cooking utensils, linens and more with an antique piece that offers as much character as it does utility.
Bring old world character into your kitchen with this antique corner hutch. The shelves have a a double row of grooves for displaying and storing plates and platters, and the hutch boast a full 22" of front to back storage. You'll love the molding detail, original hardware and hand-forged nails.
Our Rosecomb Bantam Rooster is a proud fellow indeed. No doubt he will add conversation to any room. Hand painted on an original barn door, Red Red Rooster measures 45" x 45".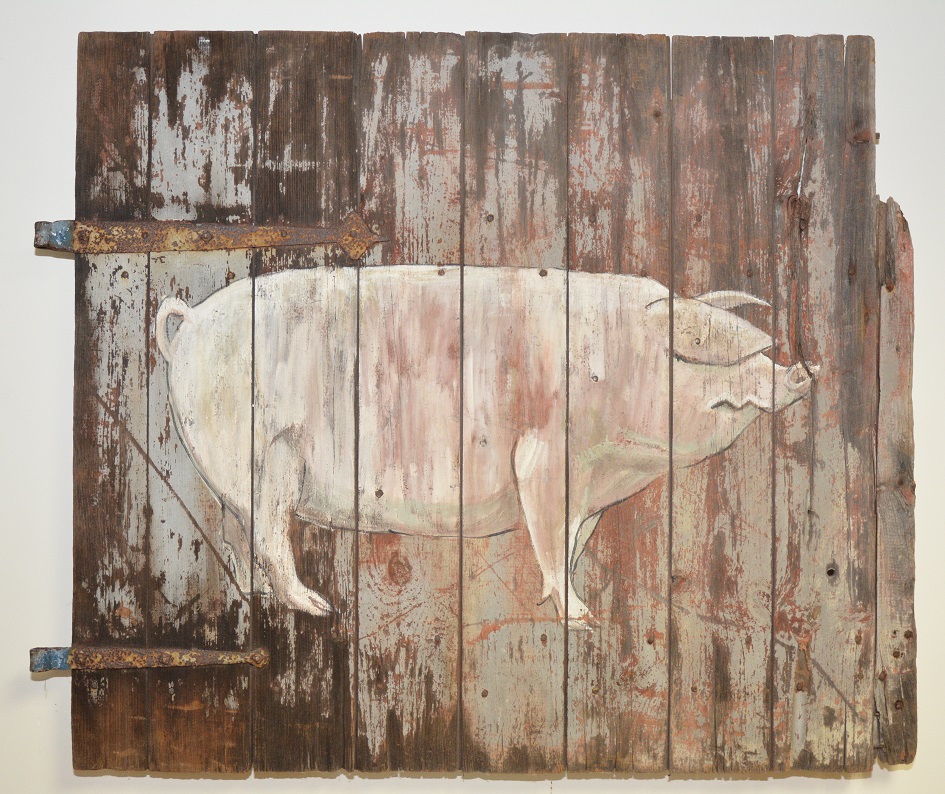 Our plump pig makes a whimsical statement. Painted on an original barn door, this artful bovine surely will add character to his new surroundings. He measures 45" x 38"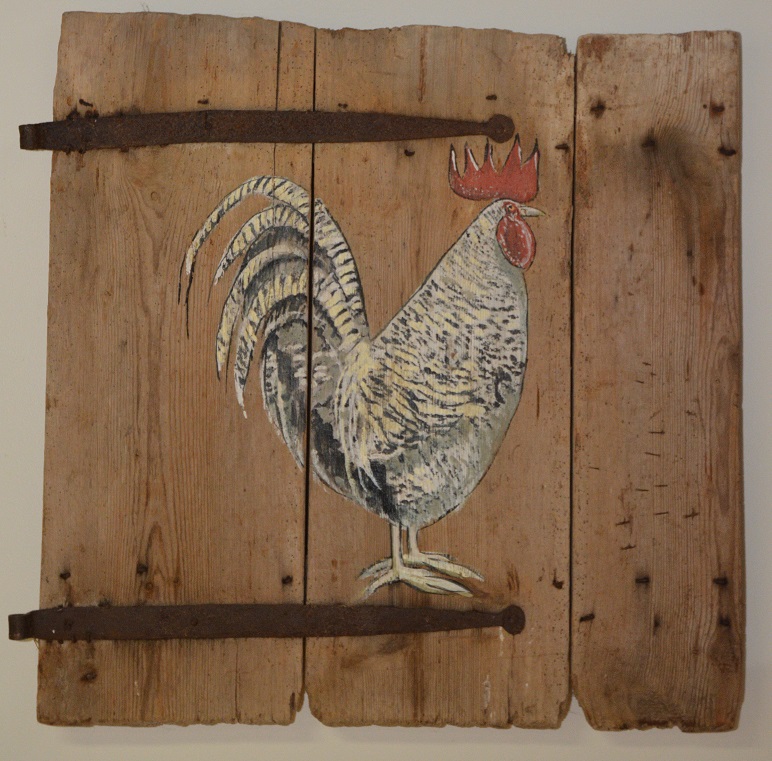 Our hauty white bantam rooster is ready to get the conversation going at your home while keeping an eye on things. He measures 36" x 35"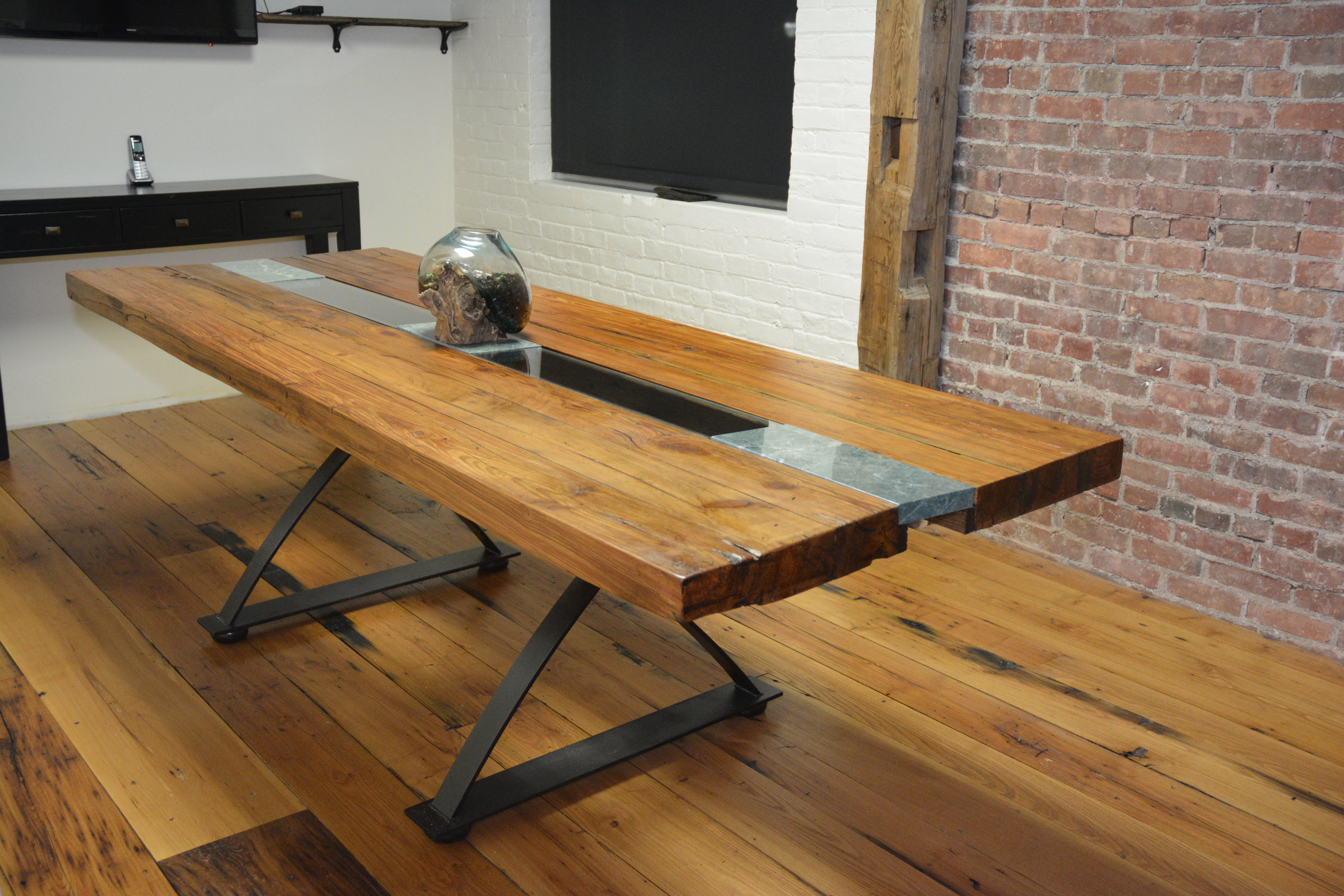 Designed by Arthur Zobel, this 36" x 8' table is a statement piece for home or office. Mixing steel, antique heart pine, granite and glass gives this table the flexibility to be at home in a farmhouse or contemporary condo.
The Most Organized Island SOLD!
Once a printer's chest, this piece makes a most useful island. With drawers that offer compartments and built-in label holders on the pulls, our printer's chest is perfect for organizing your kitchen. The height is standard kitchen island height.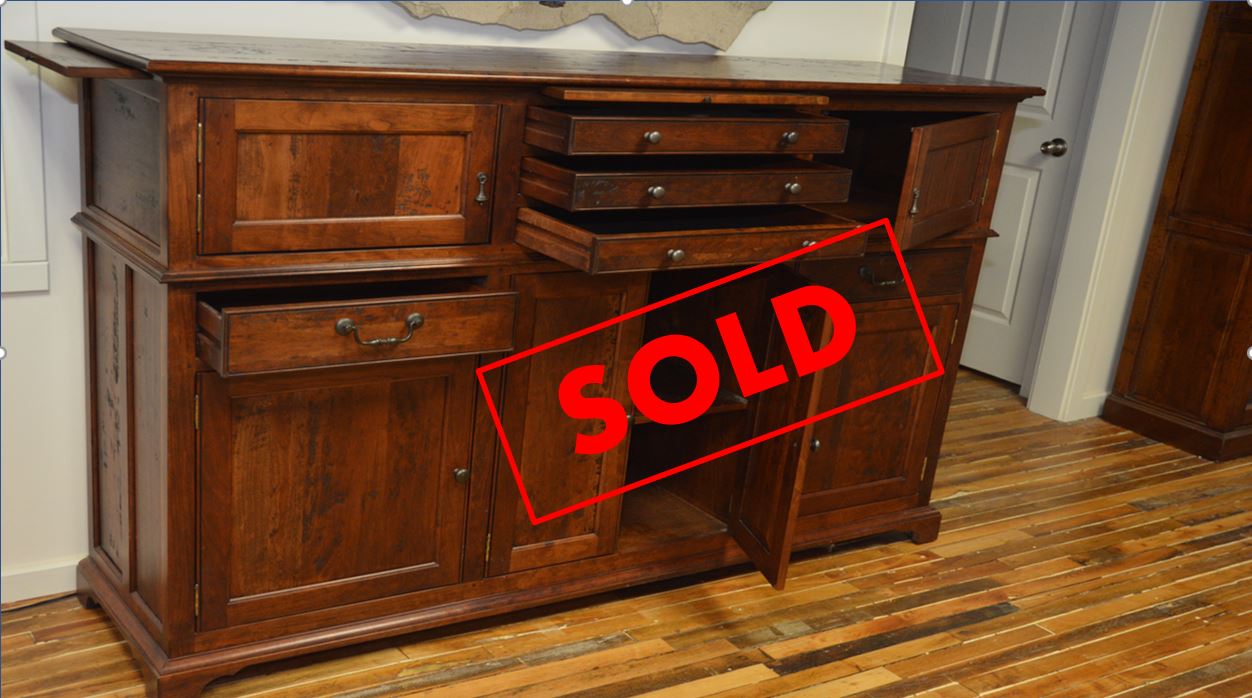 This sideboard will be an indispensable piece of furniture to your dining area. The top three drawers are felt lined with flatware organizers and fabric cover ready to keep your silver from tarnishing. Handy shelves pull out from the sides and front for additional space when serving. Ample cupboards and drawers are ready to store your dishware, glasses and serving pieces.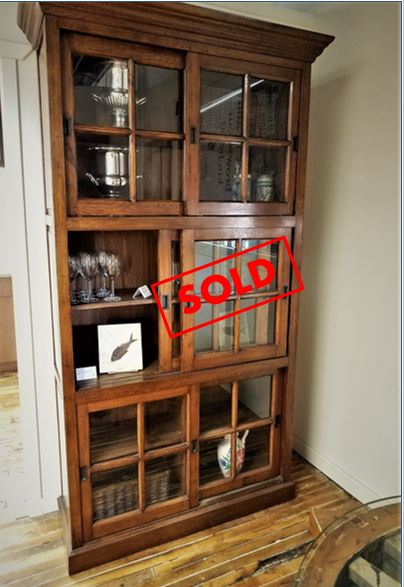 This Arts & Crafts bookcase is an unusual piece that provides character and great storage. Whether you use it for books, decorative items or dish & glass ware, you'll find that it can hold a great deal and look great.