Projects
Below are just a few of Zobel & Co. Kitchens latest remodeling projects. Browse through them to get ideas for your new custom kitchen. Click on any image to open the gallery to full view. Visit out Houzz page for many more projects. Create an idea book on Houzz to get started on your new custom kitchen.
Euro-Influenced Classic White Contemporary
Who says the white kitchens are a current trend? This kitchen was a white traditional kitchen , 1970's era. Popular at the time, hanging cabinets over the peninsula visually cut off the kitchen from dining area. By removing the hanging cabinets and moving the peninsula wall to the edge of the living room wall, Arthur was able to create a much larger kitchen. The clean lines of the kitchen, recessed panel door style, stainless steel and black appliances, waterfall counter top and the wood-style ceramic floor tile give this kitchen a contemporary flare with a slight nod to the homeowners' European decent. Adding built-in cabinetry to flank the fireplace creates a smooth, seamless appearance and gives a home to the bar and television.
Cabinets: Plain & Fancy Cabinetry Foundry, in Cascade White
Counter top: Aurea Stone Sfumato Quartz
Appliances: Samsung wall oven, microwave and refrigerator; Miele stove top, range hood, wine refrigerator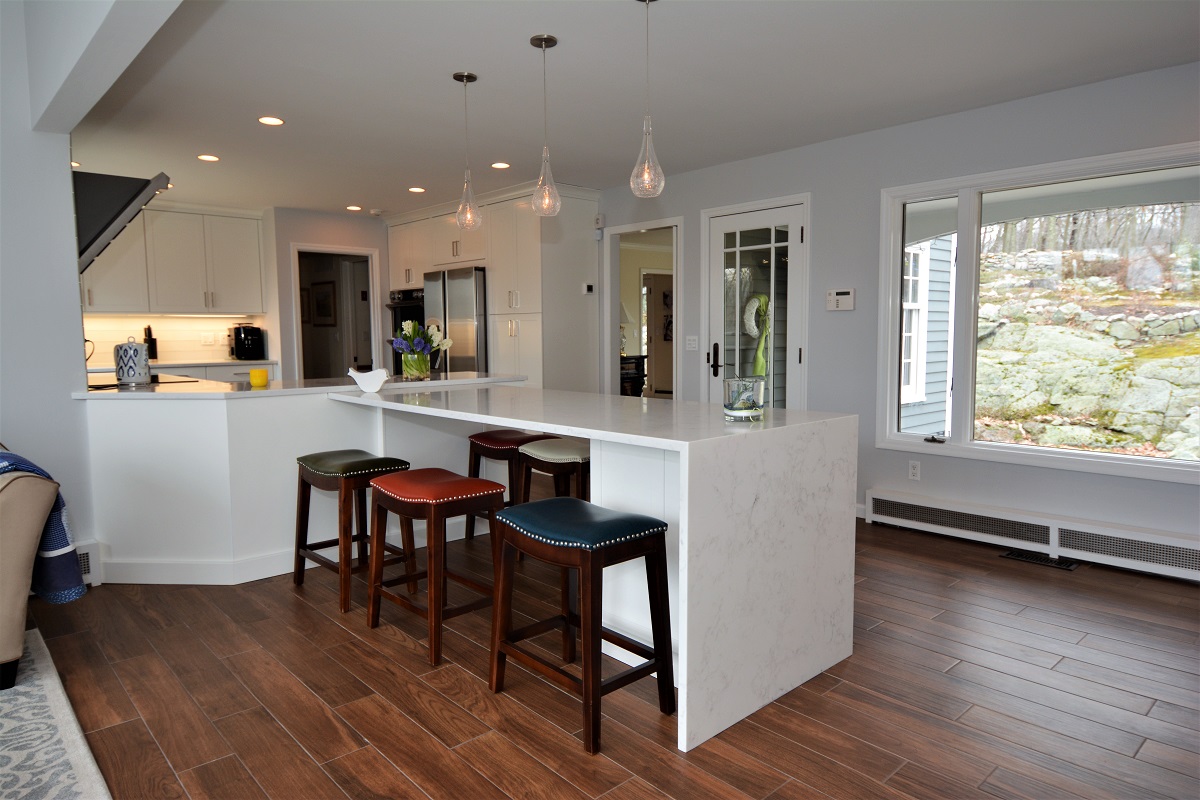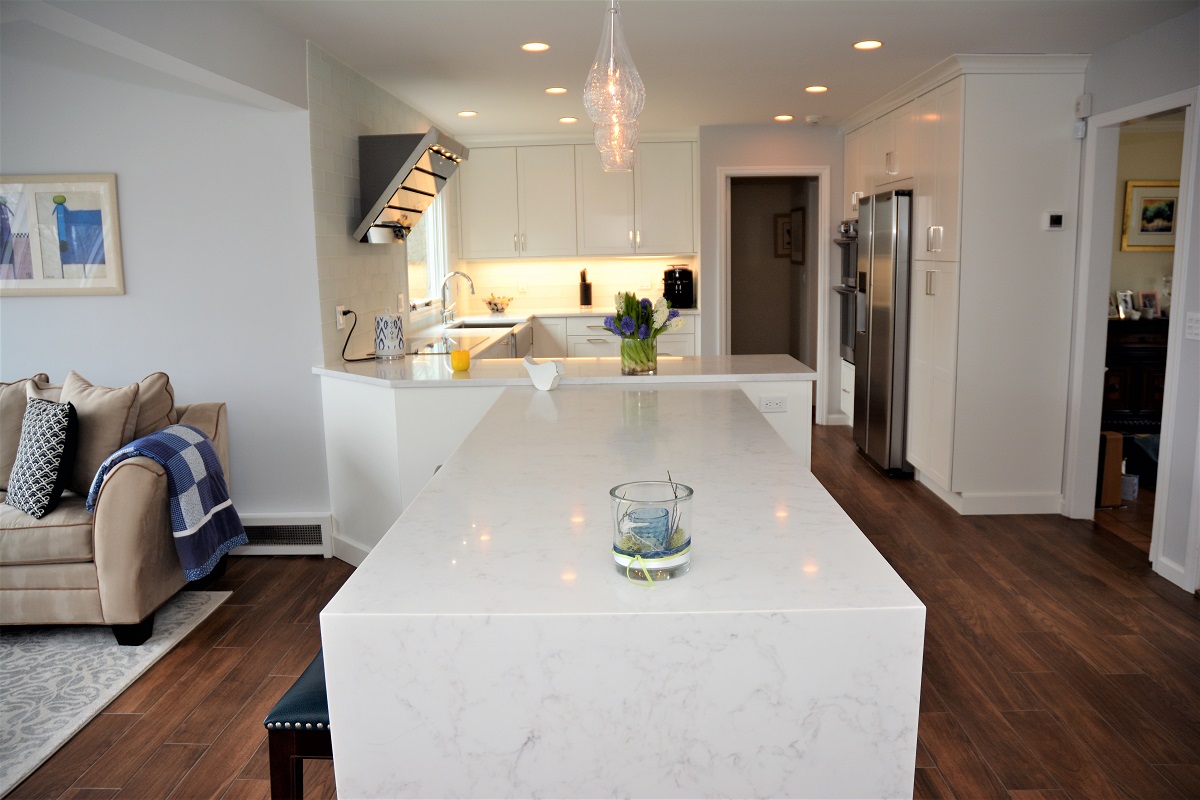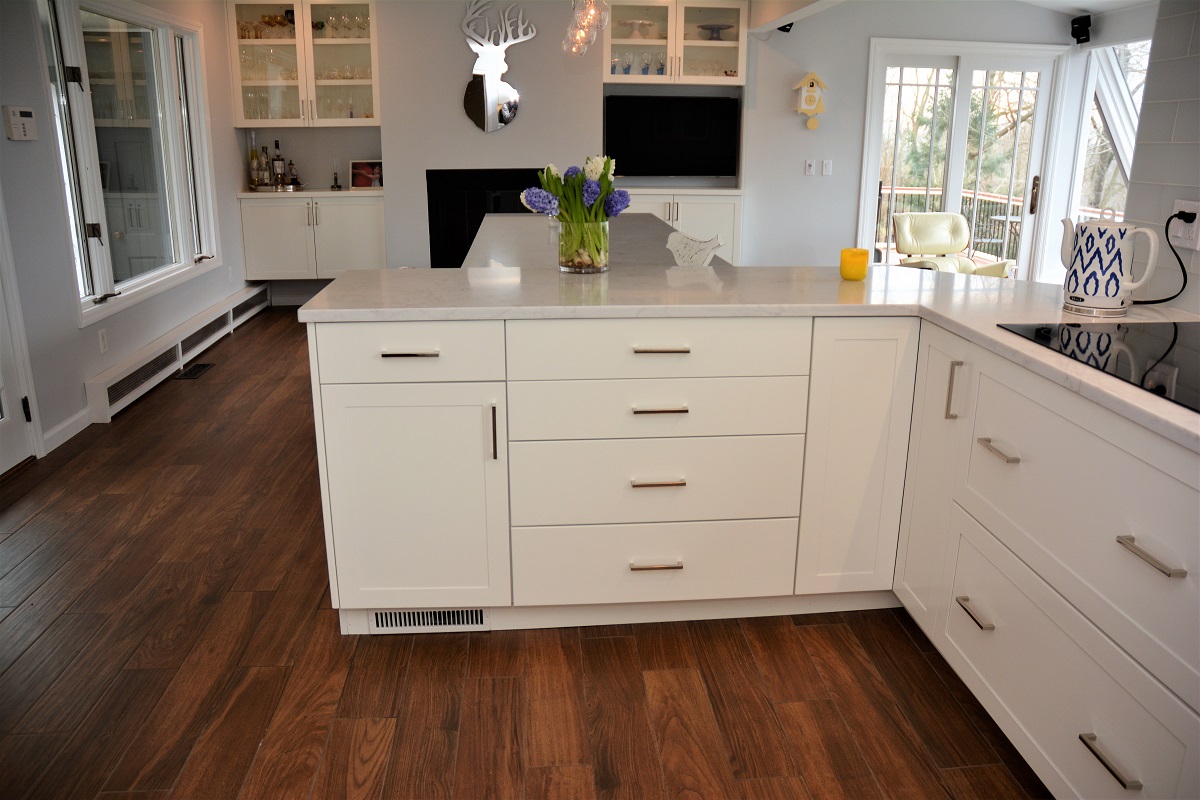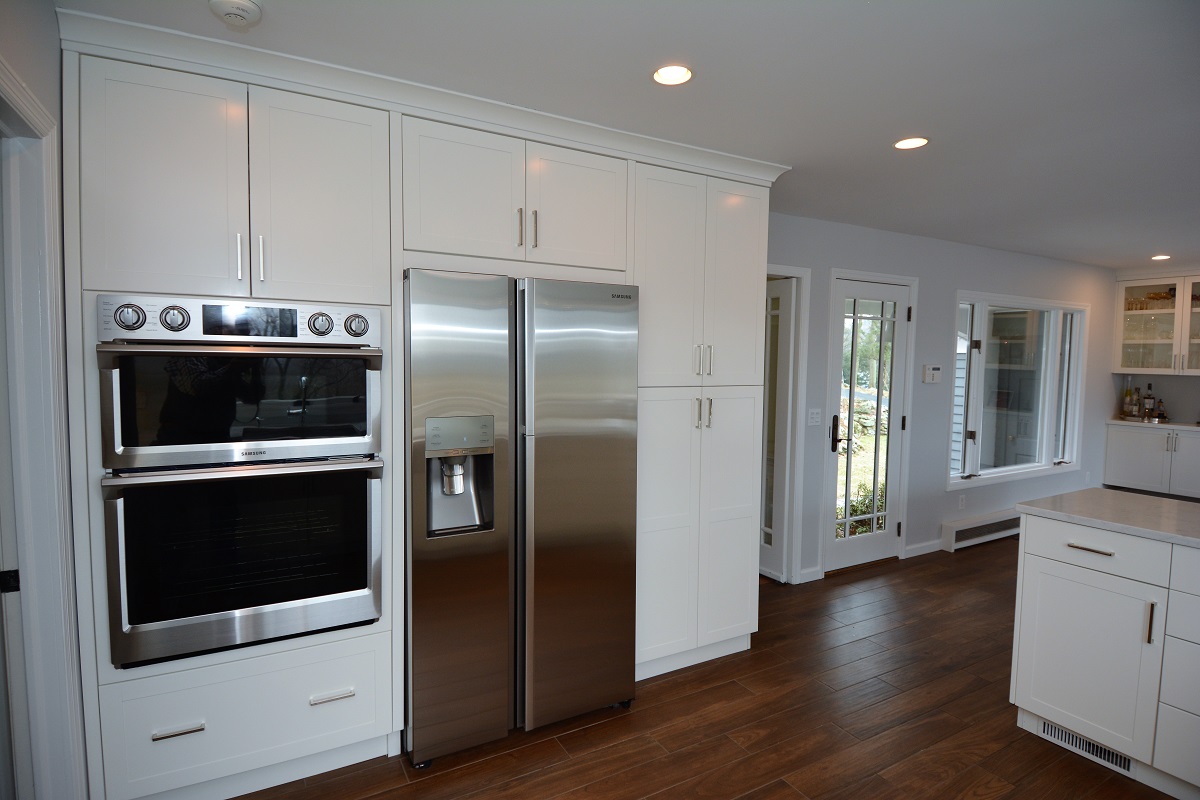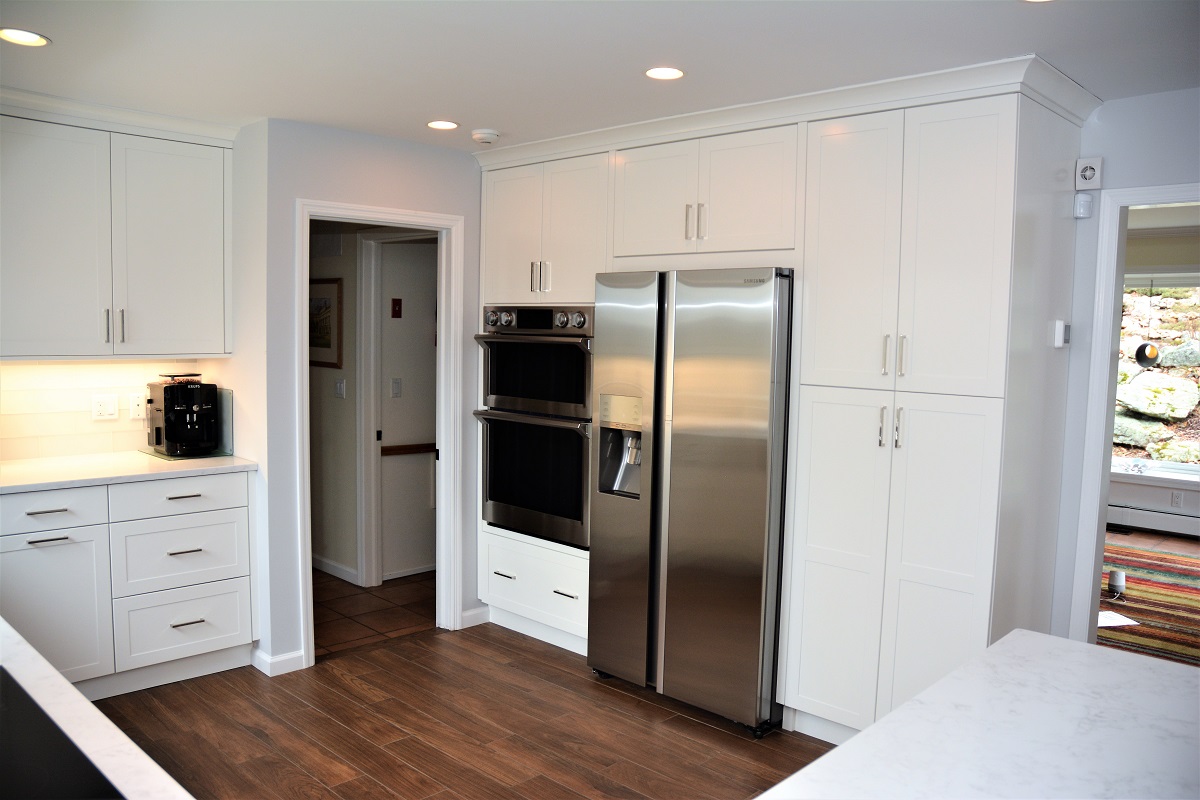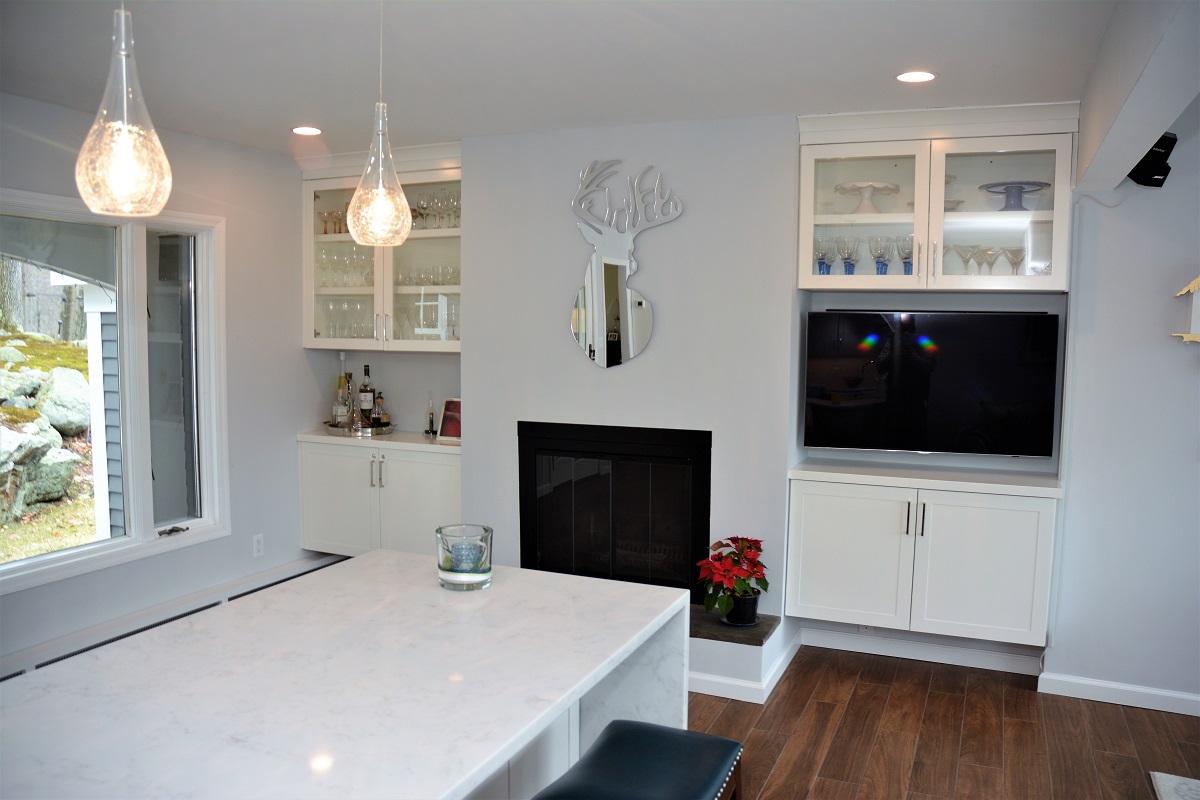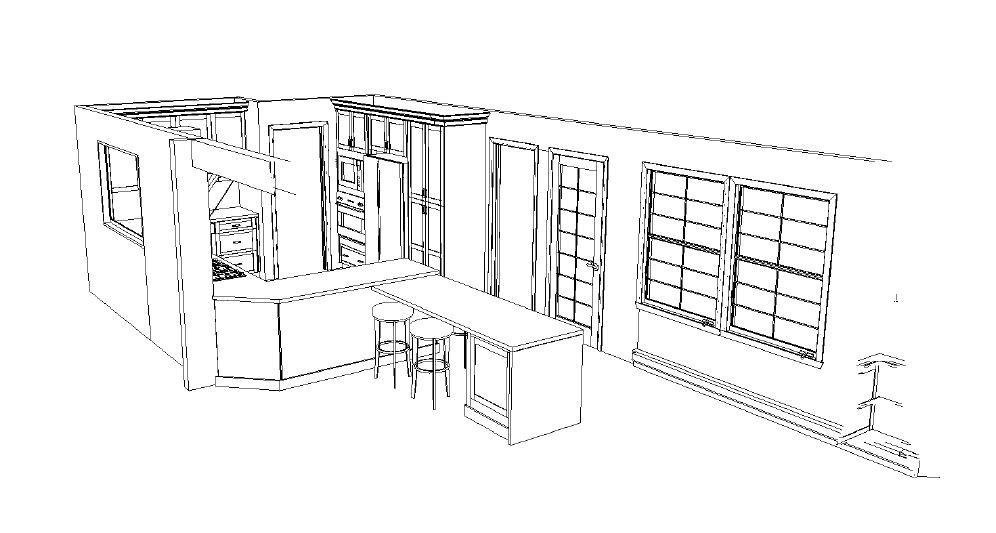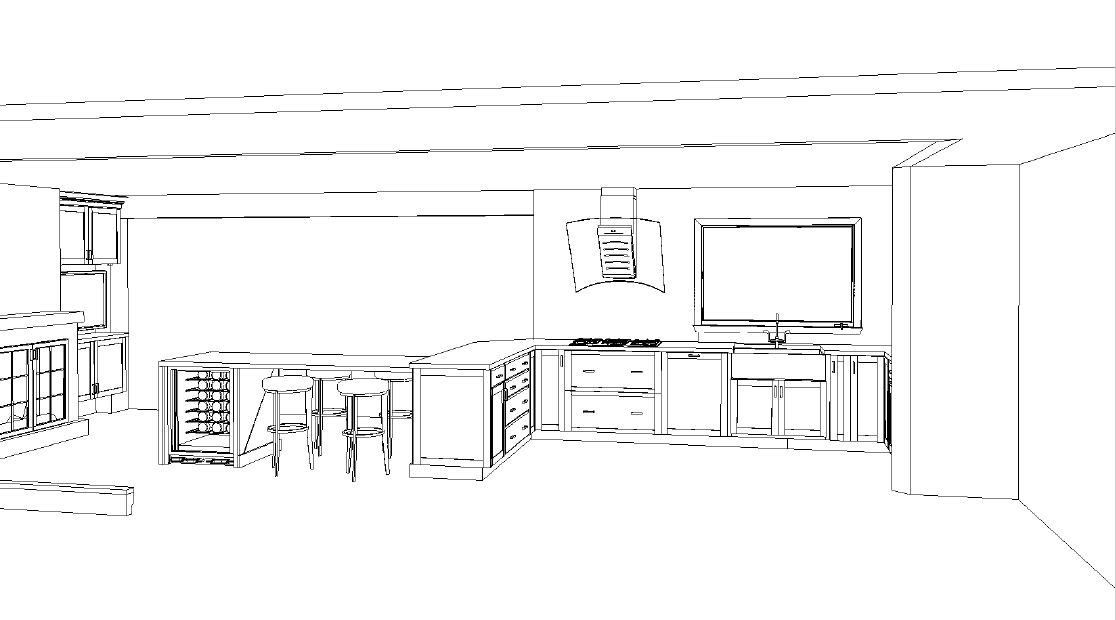 dramatic 2-tone french country kitchen
Some say French Country is dead, but we know that's not true. We created this modern French Country design using hand-crafted beaded-inset cabinets, a classic apron farm sink, a traditional yet commanding hood with curves, angles and corbels, and detailed crown molding. The finer touches are subtle but important, such as arched toe-kicks, a 5 cm thick marble counter top on the island, leaded glass cabinet doors, and interior cabinet lighting. Notice the hidden storage around the stove, the convenient plugs discreetly built into the island, and paneled dishwasher and refrigerators.
Cabinets: custom built cabinets by Patrick Magliocchino ; beaded inset style. Perimeter cabinets are white with grey highlights; island cabinets are blue grey
Hardware: Top Knobs
Appliances: Wolf stove; Bosch dishwasher; SubZero refrigerator; Sharp microwave drawer
Counter tops: Island - 5cm marble, perimeter 3cm marble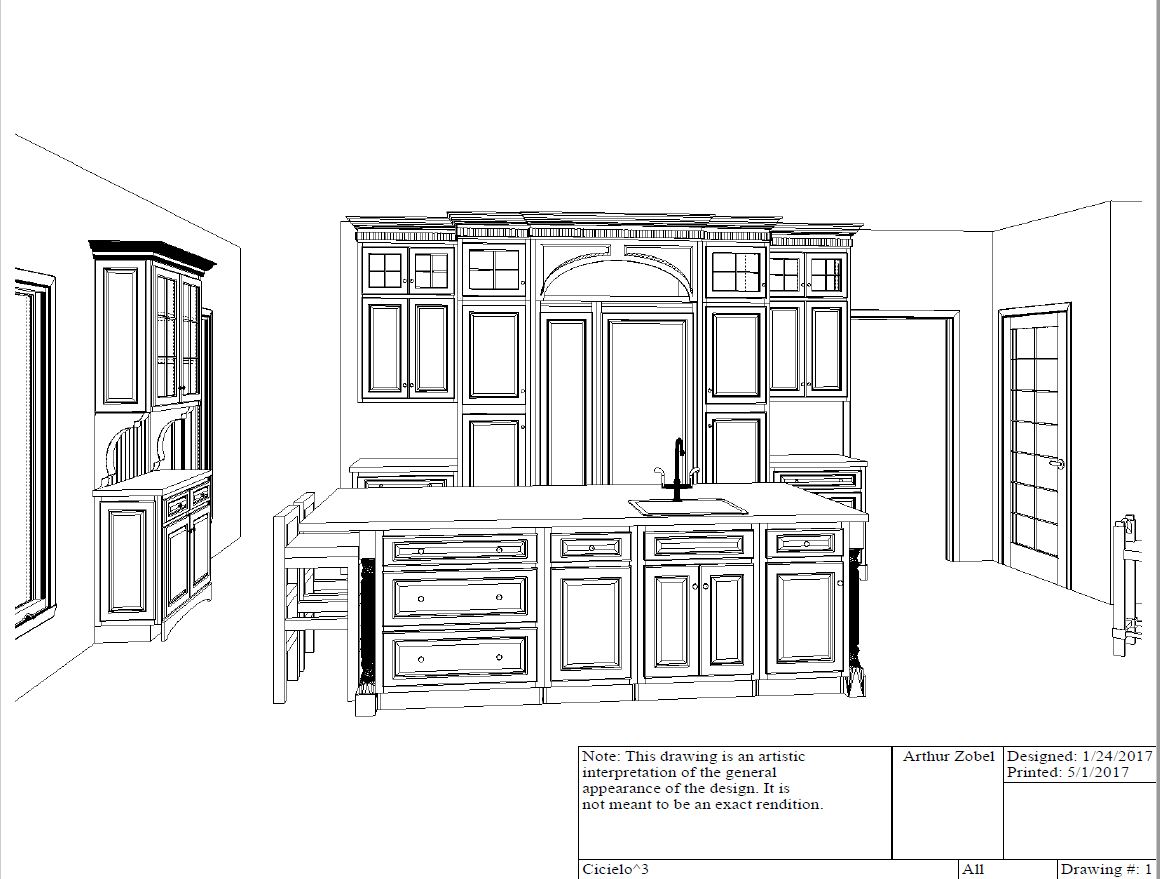 White & Walnut Transformation
We took this 1970s kitchen and transformed it into a modern transitional kitchen. By replacing the L-shaped peninsula with an island we opened up the kitchen. This improved the work flow, removed the barrier to the dining table and created a lighter look and feel. Two tone kitchens are increasingly popular, and you can see why in this kitchen. The dark island creates a focal point. Top cabinets with glass doors and interior lighting give an elegance as well.
(click on any image for full screen view)
Cabinets: Plain & Fancy : Vogue White: Cascade Walnut: Tamarid
Hardware: Top Knobs
Appliances: All GE Monogram except Wolf Stove
Counter: Quartize
Desktop: Walnut